New films for "Future week"!
Published 18 October 2021
Two new films up on youtube about research done in the lab.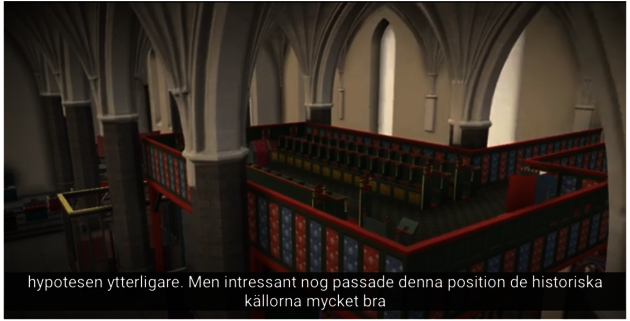 As part of the University event "Future week", the lab offers two new videos, focusing on different aspekts of the theme "breaktroughs".
Eye tracking- examples and breakthroughs, by Dr Marcus Nyström & Dr Diederick Niehorster.

An eye tracker measures how the eye moves and registers where a person is looking. The method has been used for more than a century to study e.g. human behavior, brain function, and how humans interact with computers. In this presentation, Nyström and Niehorster give an overview of how an eye tracker works, and show some examples of how the method is used in research today.
Groundbreaking insights without breaking ground, by Research engineer Stefan Lindgren
The construction of Vadstena Abbey church started in the late 14th century and it was inaugurated in 1430. It was built following surprisingly detailed instructions from Saint Birgitta. Today the interior of the church looks very different from what it did in its glory days – since then it has gone through the reformation, several hundred years of neglect and thereafter the restorations in the early and late 19th century. But what did it look like back in the days? How was the sound in the church? And how did it smell? These are some of the questions that the project Multisensory Vadstena is trying to answer by creating a virtual reconstruction of the early church.
This presentation covers a small but significant part of this virtual reconstruction, namely the long debated placement of the nuns' platform in the church. The presentation shows how we, with the help of modern technology like 3D-scanning and ground penetrating radar, in combination with written sources, have managed to come up with a new hypothesis that fits well with these sources.