News and events 2020 #1
Lund University Humanities Lab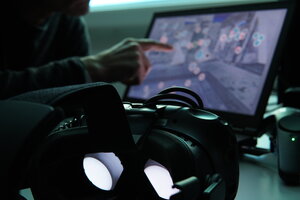 Welcome to Lund University Humanities Lab!
At the beginning of the new semester, we would like to provide all users, new and old, with updated information regarding our guidelines and routines.
But first:
What have you been up to in the Lab? Tell us about your fun findings, experiments and if some of it got all the way to a publication! For our Annual report for 2019, we would like to know more about your projects, small or big, and perhaps highlight some of it in the documentation of activities we do every year. All previous Annual Reports can be found
here
. Please send a short paragraph to Deputy Director Victoria Johansson.
---
Project management
An approved project application is a prerequisite for all users who wish to use the rooms and equipment in the Humanities Lab. Even if you are a previous user, you need to make a new application for every project. Instructions for the project application procedure can be found
here
. Use the navigation in the left column of the page to find information about user guides, the booking calendars, our participant pool, and server and data management. This is also where you find a questionnaire to fill out when your project is completed. Remember that you, according to the application procedure, must contact relevant staff members before making the project application.
What is a project?
The projects in the Lab are of different nature, but the rule is that the Lab manages users and activities through projects. A project can run for several years, or just consist of one single recording in the LARM studio. Thus, Lab projects can be concerned with everything from a long-term experimental data collection to using software for video editing. A project can also consist of lengthy or consecutive consultations with our experts. Also, note that for a student project (on BA or MA level), the principal investigator always has to be one of the responsible supervisor. If an ongoing project needs to be prolonged, or updated with new members etc., this is done by contacting
Martina Holmgren
. If your project is completed, please write a small paragraph about possible findings and send it to Deputy Director
Victoria Johansson
. Also, please fill in our
questionnaire
. Questions about project management can be directed to the
lab manager
.
---
Facilities
The lab has studios and experimental facilities at SOL (Centre for Languages and Literature) and LUX. Registered users in the lab will have access to relevant lab facilities added to their LU cards.
---
User Guidelines
Make sure that you are up to date with the user guidelines and code of conduct. Information for all users in the lab regarding maintenance of facilities, equipment, ethics, etc. are available
here
.
---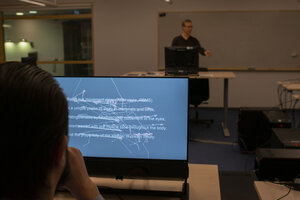 Current pedagogical activities
We offer research preparatory courses, group tutorials and written guides for much of the equipment and software available in the lab. See
webpage
for more information. If you have requests about new courses, tutorials or manuals, contact
pedagogisk_utvecklarehumlab.luse
. Activities for spring 2020 include:
Courses
During spring semester, the Humanities Lab offers the following three courses:
Functional and structural brain imaging; application to Johan Mårtensson; starting date: TBA
Programming for the Behavioral Sciences; application Marcus Nyström; starting date: March 31
Statistics II; application to Joost van de Weijer; starting date: TBA
See course descriptions
here
.
Group tutorials
The Lab will also organize the following group tutorials. To register send a mail to the person indicated in brackets. See group tutorial description
here
.
---
Equipment
Go to our
website
to find important user information and an email address for any questions you might have related to the equipment. The equipment in the storage rooms is only available to registered users. Make a note in the booking binder of which equipment you are borrowing and for how long you plan to use it.
Insurance
All equipment is insured. All participants are insured by a group insurance.
---
Mailing list
We communicate with our users through an email list. If you still receive emails after completion of the project and do not want to remain on the list, contact
martina.holmgrenht.luse
.
---
Fire safety
IMPORTANT: Please note that it is your responsibility to guide your participants if the fire alarm starts. Make sure you know how to evacuate the premises.
---
Policy documents for the lab
Policy documents that are relevant to users in the lab (e.g. code of conduct, research ethics, possible cost etc.) can be found
here
.
IMPORTANT: Please follow your participants in and out of the lab (all the way to the outer doors). This is especially important if the library is closed and if that is the case – please walk your participants through the side entrance to the lab, NOT through the library main doors.
---
Acknowledgements
The project manager is responsible for thanking Humanities Lab at any publication or other scientific output with the following formulation: "The author(s) gratefully acknowledge(s) Lund University Humanities Lab" and for tagging any publication or output in the LUCRIS database with the Humanities Lab under the tab Infrastructure.

---
Personal data management
For project management purposes, we store the following information:
name of all project members

email addresses to all project members

department / affiliation

name of the project

project duration
These tasks are linked to a project ID for access to space on the lab server. The data is available only for the lab administration and is used a) to provide access to the lab facilities for users, and b) for statistical purposes. The data is stored digitally during the lifetime of the project and for another 12 months after the end date of the project. The data is also archived in physical form and will be deleted according to the archiving regulations of the university.
---
Contact